Preliminary Draft
Exhibition Working Title:

Ukrainian Modernism
Professor Dmytro Horbachov, Kyiv, and Nikita Lobanov-Rostovsky, London have prepared the concept of the exhibition
The Exhibition will consist of approximately 80 paintings drawn primarily from the collections of the National Art Museum of Ukraine, other Ukrainian museums and private collections in Ukraine. The Exhibition is currently scheduled to be shown in the United States during the period 2006.
The Exhibition is divided into two distinct but interrelated sections:

1. Avant-garde 1910-1930.

a) Consists of little known paintings by world-class artists, namely: Kasimir Malevich, Vladimir Tatlin, Alexandra Exter, David Burliuk, Alexander Rodchenko, Olga Rozanova, Olexa Grischchenko, Alexanander Shevchenko, Petr Konchalovsky, Aristarh Lentulov. These artists worked not only in Ukraine, but also in Europe, Asia and the United States, usually keeping their Ukrainian cultural identity. Their world outlook and paintings had unconsciously absorbed and reflected their Ukrainian roots.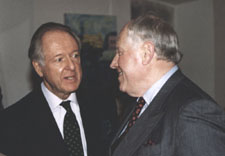 b) Also included are masters who worked only in the Ukraine, and because of this, remained largely unknown for a long time to audiences outside their native country. Gradually, their names have been added to the list of their world-known countrymen. Among them are: The constructivist Vasily Ermilov, the cubofuturist Aleksandr Bogomazov, the neoprimitivist Viktor Palmov who was a friend and follower of David Burliuk and Maria Sinyakova, the muse of the poets Khlebnikov and Boris Pasternak.

c) Plus, leaders of the Exter school of 20th century stage design, e.g. Anatol Petritsky, Vadim Meller, Alexander Tyshler and Alexander Khvostenko-Khvostov.

d) Representatives of the unique indigenous examples of the Ukrainian avant-garde, the so-called "peoples futurism", expressed in textiles and gouaches made by peasant artists.

e) and the Kiev Jewish section of cubofuturism, with paintings by Sukher Ber Rybak and Mark Epshtein.

2. Modernism (decorativism)

The sensation of the exhibition could be the large paintings by Vsevolod Maksymovych. He took his life at the age of 20. Nevertheless, he had time to convert the ideas of Beardsley created as small designs often for book illustrations, into large artistic canvases. His friend Fedor Krichevsky, whose canvases are also included, was the favorite at the 1928 biennale in Venice. Zinaida Serebriakova from Kharkov is shown with a painting, which is stylized in the manner of 16th century masters, while Oleksa Novakivsky (Novakovsky) from Lvov represents Ukrainian baroque.
------ 0 ------
Ukrainian paintings from the early 20th century are characterized by their spaciousness and bright pure colors reminiscent of fauvism reflecting the influence of Ukrainian folk art, which is among the most diverse in the world. These paintings played a historic role as a bridge between west and east.